Be one of the first 50 customers in my new shop and get a €2 discount on any purchase! We sell all three albums signed and we ship world wide!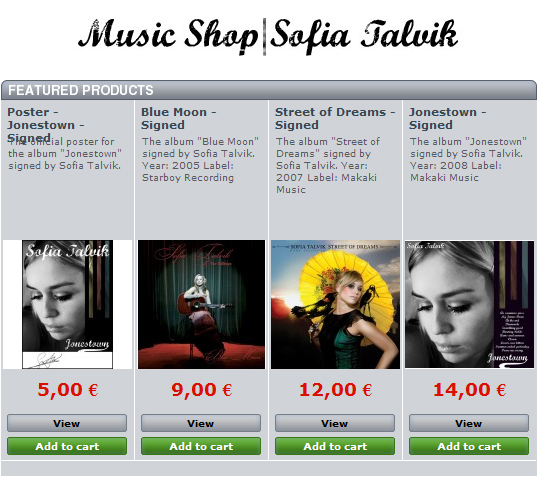 This is how you do it:
1. Go to http://www.sofiatalvik.com/shop
2. Add the items you want to your cart.
3. Go to your cart.
4. Enter JONESTOWN in the voucher code window.
4. Go to check out and enter the shipping details.
Some reasons to buy "Jonestown":
"Sofia Talvik är helt underbar!" 4/5 SmÃ¥landsposten
"Sofia Talviks starkaste fullängdare hittills. Just go for it girl!" 4/5 Groove
"Jonestown" är Sofia Talviks genombrott." 4/5 Nerikes allehanda
"With the release of Jonestown, Sofia Talvik easily gets over the idea of the difficult third album and turns out a collection that eclipses her first two." Ninth space
"It sounds entirely original and, more importantly, rings true." CD Baby, Editor's pick