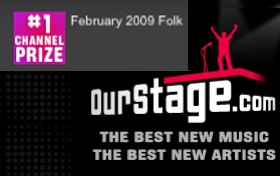 I didn't even realize I was in the competition until I got the #1 Channel Prize in Ourstage.com's Folk genre for February. My song Jonestown had been compeeting and obviously went down well with the audience. I was also first runner up for the grand prize. Here's some of the heartwarming comments on that:
OMG I can't BELIEVE how you just got CHEATED in the LAST SECOND like that. First place for the last two or three hours. Oh man you got ROBBED!!! You deserved to win it all Sofia. Such an amazing song. We'll get em NEXT MONTH for sure, though. Happy-dark
Hugs, XOX Vicky
This is such an Amazing Song and Incredible Vocals, I am with my friends, ought to have gotten the Grand Prize!!!!! You are a Bright Shining STAR****** Happy-dark Happy-dark
OurStage gives you the power to decide who should top the charts in 50+ music genres, from Rock to Electronic, Rap to Country. Sign up today and make sure my songs keeps getting played.
And all of you who voted for me – lots of love your way!