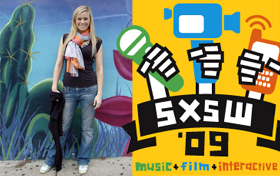 Fresh from a powerful performance at 2008's Lollapalooza festival, Sweden's Sofia Talvik is now poised to conquer the States with the release of her devastatingly beautiful third album. It's a record of staggering elegance, with the faintest trace of Scandinavian twee and youthful exuberance. (Chris R, CD Baby)
Don't miss the SXSW showcases:
Wednesday March 18, 11pm:
The Ale House, 310 E6 Old Pecan St.
Saturday Marc 21, 6pm:
Sheraton Hotel, 701 East 11th Street Austin, TX 78701.
If you are working in the music industry and would like to schedule a meeting or a an interview, please contact:
Jonas Westin, CEO Makaki Music – email
Laura Hamlett, Big Fat Cat PR – email