I'm being interviewed tonight on the news at 8.30pm (kl 20.30) on Swedish TV8.  For everyone who wants to know what it's like to run your own label this might be a treat.
Update: Check out the interview HERE. (the interview is 12:10 minutes into the show)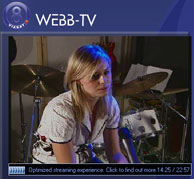 … or you can listen to Swedish Radio P2 Felicia Show on Sunday at noon, when they're airing an interview recorded in London after my gigs there.
I thought the reviews had stoped coming but apparantley not… so thank you ICA kuriren and Jönköpings Posten for giving me solid 4:s yay! 🙂