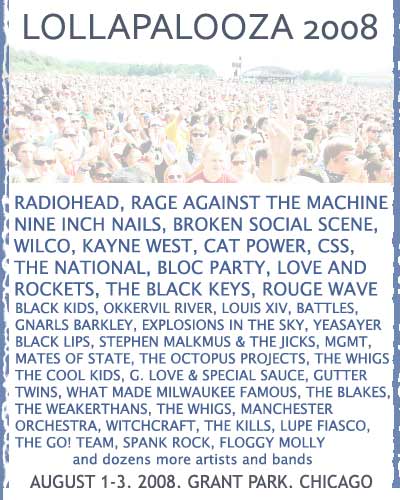 I'm happy to announce that I will be playing at the BIG festival Lollapalooza, Chicago in August!
I'll be on the first day, August 1:st. So basically I'll be the opening act to great bands like:
Radiohead ,Rage Against the Machine, Nine Inch Nails ,Kanye West ,Wilco, The Raconteurs ,Louis XIV ,Love and Rockets ,Gnarls Barkley ,Bloc Party ,The Black Keys ,Broken Social Scene ,Lupe Fiasco ,Flogging Molly ,Mark Ronson ,Cat Power ,The National and more…
Check out the festival here: http://www.lollapalooza.com
SEE YOU THERE!!!!