I haven't made it as a play-mate yet, but I'm not sorry because I'd much rather be a K-mate!
I've done many interviews in my day, answering questions about my music and stuff like that. This time the interview was quite different. How would you react if someone asked you how often you pick your nose for example. Would you be offended? I wasn't because my friend Scott usually says way worse things than that to me. I think he was even restraining himself when he did the interview with me for his new issue of K Composite magazine that's available FOR FREE in the app store (for iPad).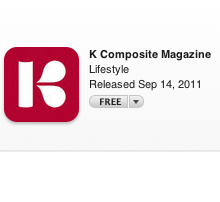 Now if I'd be the only one who was interviewed the magazine would be very thin, (something Scott also realized) so he made an effort and interviewed a whole bunch of other people too. You see the thing with the K Composite magazine is that it's just a lot of interviews with ordinary – or maybe I should say extraordinary – people. You won't find celebrities but you will find a bunch of weird questions and answers.
K Composite launched in 1991 as a fanzine and this is the first issue for the iPad. As I'm a designer myself I can tell you that Scott has made a pretty awesome job with the design, playing with different fonts and adding graphics and 3D pictures.
So go download your copy today. It's for free goddammit!