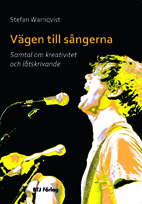 September 15th a new book about Swedish artists and bands is being released. The book contains interviews with artists from different genres and backgrounds and a complete discography is included for each artist. I'm interviewed in the book and you can buy it on the Adlibris website, Bokus and other online stores.
The book is in Swedish and here's a brief description of it:
Vägen till sångerna. Samtal om kreativitet och låtskrivande
Hur går det till när en låt skapas? Hur influeras låtskrivare av annan musik och andra konstformer? Hur påverkar tiden och platsen den kreativa processen? Vad tycker låtskrivare om nedladdning och turnéliv? Hur påverkas de av den sjunkande skivförsäljningen?
I Vägen till sångerna samtalar musiker från olika bakgrunder och genrer kring dessa och andra frågor med musikskribenten Stefan Warnqvist. I centrum står nyare låtskrivare varav de flesta har skivdebuterat under de senaste åren. Några har skördat framgång världen över, andra har hittat hängivna lyssnare inom en viss subkultur. Alla har de en intressant historia att berätta om låtskrivandet och sitt förhållande till musiken.
De intervjuade är Asha Ali, Anna Frank, Lisa Lindal, Miss Li, Timo Räisänen, Elin Ruth Sigvardsson, Syster Sol, Edith Söderström, Sofia Talvik samt låtskrivare från grupperna Anagram (Anna Einarsson), Backyard Babies och Nicke Borg Homeland (Nicke Borg), Billie the Vision & the Dancers (Lars Lindquist), Dear Euphoria (Elina Johansson), Dungen (Gustav Ejstes), Fröken Underbar (Sandra Vilppala), Hästpojken (Martin Elisson och Adam Bolméus), Montag Mania och De Lescano (Isabel De Lescano och Fredrik Blank), Taken By Trees (Victoria Bergsman), The Tiny (Ellekari Larsson Sander och Leo Svensson Sander), Urban Tribe Stockholm (Adam Atterby) och Za Frûmi (Simon Kölle).
Boken innehåller utförliga intervjuer med en unik sammansättning av svenska låtskrivare inom olika musikstilar, ett rikligt och många gånger exklusivt bildmaterial samt albumdiskografier för varje artist.