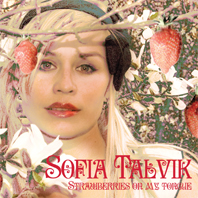 Summer is here!! And so is my new summer single "Strawberries on my tongue". This first week all of you who have twitter gets the new single for free before everyone else, with just one tweet. When you add your twitter name and password here, you get a download link to the single, and your twitter account automatically sends out a message on your twitter flow that you downloaded the single. (no information of names and passwords is saved so don't worry). This is the way you pay for the single, by simply telling your friends about it. Neat huh!
The single is mixed by renowned producer Magnus Frykberg and the B-side (YES! You get two versions of this baby) is a live recording with a guest performance from world musician Steafan Hannigan who has worked with Björk and Depeche Mode to mention a few.
Florida Music Festival
On saturday the 16th you'll be able to see me live, and hear the summer single live as well at Florida Music Festival! I'm playing at "The Social" (downtown Orlando) 9pm. Be sure to come by and have a listen!