The post address to the Studio Lounge was Obertrubach. But when we arrived in Obertrubach our GPS and said "follow the road for four kilometers" we thought there must be something wrong. But we kept driving and eventually ended up in Untertrubach. You can't imagine that a village that small will have a venue that big, but there was the Studio Lounge, owned by Bobby, who turned out to be Meatloaf's old drummer. Nürnberger Nachrichten was there and reviewed the show, and here's what they wrote: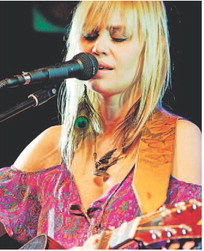 Mit Songs verzaubert 
 Sofia Talvik machte in Untertrubach eine Station 
Eigentlich stammt Sofia Talvik aus Schweden. Doch die 35-jährige Sängerin und Songwriterin lebt seit Kurzem in Berlin. Auf ihrer aktuellen Deutschland-Tournee hat sie in der "Studio Lounge" in Untertrubach bei Robert "Bobby" Bachinger Halt gemacht. Mit eigenen Songs verzaubert sie, die bereits beim legendären Musikfestival Lollapalooza in Chicago für Aufsehen gesorgt hat, "inmitten des Nirgendwo" die Zuhörer.
Es sind melancholische Geschichten, die Sofia Talvik erzählt. Gefühlvolle Balladen voller Schmerz, tausendfacher Tränen und der Erfahrung des Verlassen-worden- seins, zumindest wenn es sich um Songs ihres ersten Albums "Blue Moon" handelt.
Mit feenhafter Stimme und ganz viel Hall auf dem Mikrofon tastet sie sich durch emotionales Chaos und spielt dazu auf ihrer akustischen Gitarre. Schnörkelloser Gesang und eine einfache, obgleich keineswegs simple Begleitung sorgen für die Konzentration auf das Wesentliche. Auf das Leben, seine Höhen und Tiefen, seine wilden und ruhigen Episoden, seine Träume und die harte Realität.
Etwa, wenn in "When Winter Comes" eine eisige Atmosphäre das Innere der Sängerin und ihrer Zuhörer ergriffen zu haben scheint. Mit menschlicher Wärme rückt die gebürtige Göteborgerin den emotionalen Minusgraden zu Leibe. Oder wenn sie vom Regen in Florida singt, der dort nur als "Liquid Sunshine" den Boden erreicht.
Vorbilder zu spüren
Metaphern, Symbole und bildreiche Schilderungen durchziehen Sofia Talviks Texte. Die Einflüsse ihrer Vorbilder Suzanne Vega oder Aimee Mann sind allenthalben zu hören und zu spüren. Eine musikalische Ausbildung kann Sofia Talvik nicht vorweisen, lediglich etwas Klavierunterricht in der Schule. Das Spiel auf der Gitarre hat sich die Folk-Pop-Sängerin selbst beigebracht und dabei auch das Schreiben eigener Songs: "Für Coversachen bin ich nicht geeignet", sagt sie.
Im Alter von 22 Jahren folgen erste Auftritte, fünf Jahre später das erste autobiographisch gefärbte Album "Blue Moon". Aus diesem Kleinod, gleichsam einem musikalischen Tagebuch Sofia Talviks, erklingen gespensterhafte "Ghosts", die wie ihre sanft hingestreichelten Liebeslieder für ein Prickeln auf und unter der Haut sorgen. Dass sie nicht nur das Klischee der skandinavisch-depressiven Liedermacherin verkörpert, zeigen die heiter- gelösten Intermezzi, wie "Beautiful Naked". Dann gelingt Sofia Talvik nicht nur die Beschreibung ihres nackten Nachbarn, der sich auf seinem Berliner Balkon hängen lässt, sondern auch eine hinreißende Hymne auf die Freiheit.
Lieder wie Bilder
Vielleicht liegt es ja an ihrem Vater, dem Maler, dass die Sängerin ihre Kompositionen wie Bilder anlegt. Eine rhythmische Grundierung, die nicht so sehr ins Auge springt, einige leichthändig hingeworfene Motive und die Schwerelosigkeit des Aquarells leuchten hervor.
Besondere Momente erzeugen zwei alte schwedische Volkslieder, "Draußen im Haag" und "Meine Rose, meine Lilie", die Sofia Talvik a cappella vorträgt, und die ob ihrer dichten Stimmung und einfachen Gestaltung beund verzaubern. Mit "She's leaving" verlässt Sofia Talvik die Bühne. Wer sie bei ihrem nachdenklichen, mitfühlenden und bewegenden Konzert gehört hat, kann ihren Beteuerungen: "Ich bin niemand Besonderes, ich tue nichts Besonderes" wirklich keinen Glauben schenken. Seien wir froh, dass Sofia Talvik ihren Job am Fließband eines Autoherstellers aufgegeben und sich ganz der eigenen Musik zugewandt hat.
– UDO GÜLDNER , Nuernberger Presse, Ausgabe 13.02.2014