Ourstage.com's Kathryn Oh has featured me in the blog section on ourstage.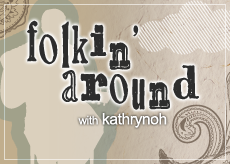 We all know the Swedes can write a mean pop songs—but what about folk songs?  Well, one artist is nonchalantly transferring the charm and fun found in most pop songs into sweet, acoustic twang.  Sofia Talvik, brings bubbly blonde ambition to this raw and often quiet genre with a captivating breath of fresh air.  After her 2008 Lollapalooza performance, Sofia became a force in the States and went back into the studio to record her fourth album and latest release, Florida.
With a focus on drums and electronic beats, Florida brings a sense of pop fun to an otherwise sensual and introspective album.  Says Sophia, "Some songs are dark some are sunny, but all of them have a groove.  I actually wanted the album to sound like what the intro to HBO's True Blood looks like. I think the songs have the same kind of weirdness to them as those pictures, and that's the American south to me."
On top of bringing this interesting take to folk, Sophia manages her fan base using pop artist strategies.  Fans can tweet at her to get her new single, she offers an acoustic version of her entire album for free with purchase of the full one and she even live streamed the recording the new album online.  The new album is currently streaming on her Web site, but until it's released, check out some tracks from her last album Jonestown below!  Do you dig the pop/folk style?